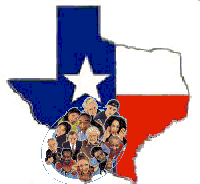 Personal Service in an Automated World
Monthly Newsletter - January 2012
You are receiving this newsletter because you are associated with a business or organization that uses our services. If you'd like to be removed, we will cheerfully do so. See the link under "Handy Things to Know".
New websites this month include the Val Verde County Library Expansion Project the VVCLEP will be hosting a Radio Auction, February 11, 2012 on Hot Country KDLK from 10:30 to 1:00. Please consider donating to this worthy cause. There are marketing opportunities for supporting businesses on the VVCLEP website. Become a supporter.
Also new this month, CR Custom Tackle, complete with online store. CR Custom Tackle custom paints fishing lures, and pours custom soft plastics. Proof positive that beautiful Lake Amistad brings economic opportunity to the area. Nearly one third of our website customers are directly involved in business related to Lake Amistad, and local tourism.
Handy Things to Know
Viruses and Root Kit Infections: We continue to see lots of machines infected with malware and root kits. One of the latest forms of malware, uses Internet Explorer to surf websites in the background, causing machines to become even more compromised. The prevailing symptom is random and unexplained audio coming from your speakers. Check your running processes by using ctrl+alt+del, if you see iexplore.exe running on the processes tab, but you have no webpage open, you are infected with this serious root kit.
Today's reality is this: If you are running MacAfee, Norton, Symantec, AVG, Trend Micro, or any other antivirus program but MALWAREBYTES, you WILL become infected. Every machine that comes to our bench with an infection is running one or more of these "consumer antivirus products" which has failed to protect the machine. Malwarebytes is currently the only program that is effective at protecting and cleaning your machine. It costs $24.95 one time fee. It updates and scans automatically. Malwarebytes is one of the tools that we use to clean sick machines. Often, it is the only tool that is needed. We receive no kickback for promoting this product..... on second thought, we do receive more free time as a result of customers using this product..... Please consider using it. Get Malwarebytes here.
Coming Next Month: Advice on stopping SPAM !